Handmade with pride in Britain.
It starts with the materials
Our buyers work closely with suppliers like Larson Juhl and Nielsen Bainbridge to satisfy those looking to furnish their homes and offices with the latest interior trends.

Delivering an authentic experience is important to us, so many mouldings are finished in countries famous for their unique take on interiors. Italian guilders hand finish decorative frames with the same skills passed down by the generations responsible for introducing the Baroque movement, while simple white frames are produced in places like Sweden and Norway, known for their clean and calm living.
Exceptional Materials
You'll know it
When you feel it.
Premium mouldings made from real wood and designer aluminium result in durable frames with unmatched surface finishes. You'll also benefit from strong MDF backing, not cardboard and a crystal clear plexiglas, not styrene.
Greener Suppliers
We want to make sure we're protecting and creating more sustainable forest than we're using. So we've ensured that all wooden mouldings are sourced from suppliers who hold the PEFCTM and FSC chain of custody certifications.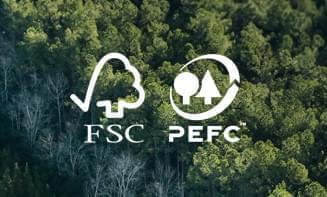 Clarity+


The difference is clear

Now you can enjoy your frames photos or artwork and experience an astounding level of clarity not seen before. Your pictures appear razor sharp and colour appear more vibrant than ever, from all angles. Unlike other frames found online our unique Clarity+ glazing doesn't scratch easy, has a high UV resistance and doesn't yellow over time, so there's less to distract you from your picture. 2mm float glass is also available to order online.
Quality materials are just the start of the journey. Our skilled craftsmen and women work closely together to ensure that every frame, mount and mirror we create is perfect. That means approving all the pieces that go into making them - the moulding, the backing, the mirror, the glazing and even the fixings are subject to numerous quality checks. Because when a frame arrives to this standard of fit and finish, every element counts. Discover more about how our products are made below.
World Class Saws
Flawless Corners
Experience seamless corner joints thanks to our 6 highly advanced saws which produce unparalleled, splinter-free mitres. Our primary saw is one of the only saws of its type in the country and can cut to an accuracy of 0.01cm.
Pinning perfection
Robust underpinning is vital. Framers who simply glue corners together risk compromising the structural integrity of a frame, increasing the likelihood of it bowing out of shape. We use compressed gas to fire layers of metal pins deep into the moulding, which results in a sturdy frame that can withstand both the rigours of shipping and a lifetime on the wall.
Pinned to Last
Strong Construction
Our newly upgraded computerised underpinners can store up to 3,000 moulding profiles, which ensures each frame benefits from the ideal pin pattern.
Maximum impact
Surround your pictures with a traditional window mount, float mount, or multi-aperture mount, then switch-up your designs by choosing from a range of mount finishing options that include luxury deep bevel and 'V' groove designs. Why a mount? Mounts add a powerful aesthetic component to your designs by giving artwork breathing space, helping to draw the viewer's eyes to the detail of the picture.
Gallery Quality Mounts
Clean Cuts
Our swiss engineered GUNNAR® mount cutters offer computer controlled precision that translates into award winning quality and speed.
Packaging and Delivery
We use clever packaging that's been designed in-house to protect materials like glass during its journey from us to you.
Packaging that Delivers
Intelligent Packaging
Our packaging has been extensively refined over 15 years. Frames are now suspended in a smart box that incorporates a car style crumple-zone designed to absorb shocks during transit.
Our Premium Paper Stock
Our paper stock has been selected from hundreds on the market.
It has been chosen for its smoothness and for the perfect compatibility with our pigment inks. Our inks nestle onto this stock with a sheer finish and crisp lines.
It provides you with the deepest of blacks, brightest of colours and has a vast span of monochrome shades for flawless, life like images.
We are so proud to bring you the very best. Your photographs deserve uncompromising quality. This is what you'll get.
Your Frame.

Your frame is made from real ramin wood and is fitted with high quality acrylic safety glazing which is indistinguishable from glass, making it safer in the presence of children when hung on your wall and safe in mail transit.
Real Oak, Black and White frames are available.
Fixtures and fittings are included so your framed print will be ready to hang on your wall immediately. No hassle and stress free.
Want to know more about how your handcrafted frame is made?

Framing is a multi step process that involves many framers, technology and craftsmanship:
Our picture framers collect & unwrap your moulding before inspecting and cutting it to the required length
Computerised underpinners are used to fire hardened steel wedges into the moulding, securing the corners in place
Glaziers use vertical saws to cut the crystal clear glazing & MDF backing
Our Swiss engineered vacuum mount cutters precision cut mount-boards
Expert finishers fill corners & assemble your frame before firing in flexi-points to keep everything in place
Our packers use clever packaging that's been designed in-house to protect materials during its journey from us to you
If you have any questions please contact us via the chat button. We will be more than happy to help.
We use specialist software to adjust your images to black and white if you opt for a filter to be added. Please let us know if we can help with anything specific as we can usually complete most requests. we can quote for any photo manipulation work.